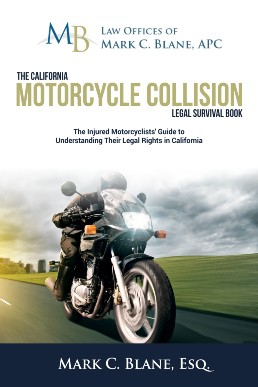 This book focuses on many different facets when it comes to a preventable motorcycle collision resulting in injuries in California. It includes the law, and the legal process an injured person may face.
The book is divided into four parts:
Protecting Your Financial Well-being;
The Safe Motorcyclist;
The Injured Motorcyclist Defense Strategy; and,
Frequently Asked Questions (FAQS).
What You Will Learn In This Motorcycle Guide
A basic understanding of the motorcycle insurance laws are in order in the beginning, so you know how to best protect yourself while you are out riding. This is immediately followed up by important information if you find yourself injured in a motorcycle crash – and the information relates to bodily injury and property damage claims.
I then devote an entire chapter to California lane-splitting, including its history and why California allows it to be legal. It is important to understand this maneuver as it flows into how the defense will devalue your case as an injured motorcyclist.
The book moves into the top defense strategies, and tactics to devalue an injured motorcyclist claim in California. This is probably the most important information to get an understanding on how the defense frames its case against you. It starts from the very beginning when they open an injury claim file. The defense tactics are secretly employed to see how the insurance can devalue and deny liability, whenever possible.
Finally, the book closes on Frequently Asked Questions (FAQS) on what a motorcyclist in California should know or be aware of. I suggest starting wherever you feel you need the most information first. Regardless of where you start, I highly recommend you read Chapter 4, Defense Tactics, at the very least. You will gain the insight you never had before as seen through the eyes of an experienced lawyer who has handled many motorcycle injury cases.
Who Is This Legal Guide For?
This book is very well suited to those who:
Have a potential injury case for bodily injuries against a negligent party (person or persons who were not safe enough to prevent your harm)
Want to be proactive and prepare for anything that could happen on the legal end with a motorcycle injury in California;
Already have a lawyer and have more questions
Do not know where to start.
It could also be a useful tool for those who still have not retained legal counsel, those who suspect they may have a legal case, or for those who need specific legal information first.
My goal is to give you precise knowledge that will get you to the heart of the information quickly. I also understand that most people who get this book need this important information as soon as possible.
I suggest that you order additional copies of this book for your friends and family members, so they are able to take advantage of the valuable legal information and insight presented. If you are a California resident, the book is available for FREE as an Ebook download.
Also, feel free to help yourself to other free Ebooks that are available to download on my website, and explore the many different legal videos I have produced that are about other common types of injury cases, and the legal process in California.
Fill Out the Form Below
Let me know where to send your Motorcycle e-book