FREE Book: The 10 SECRETS About Your Injury Case BEFORE You Call a Lawyer!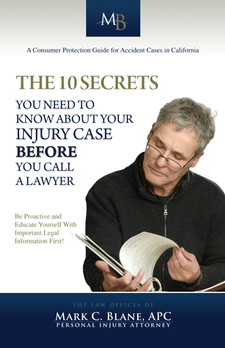 Tipping the Scales of Justice in Your Favor Since 1999
FREE book by San Diego Accident Attorney Mark C. Blane is available - request yours today! California Personal Injury Book: The Ten Secrets You Need To Know About Your Injury Case BEFORE You Call A Lawyer: Mark Blane guides you through the ten most important, but widely unknown, areas an injury victim should be aware of before calling or retaining a personal injury lawyer. He exposes the secrets that the insurance companies do not want you to know, and the simple fact that on some cases you may not need an attorney. The book normally sells for $16.95 on Amazon, but you can get a copy for FREE if you or someone you love has been injured and you need information NOW.

In this FREE book you will learn:

1. How you may not necessarily need a lawyer for your injury case;​
2. What you need to look out for, and ask a lawyer if you are interviewing attorneys for your injury case;
3. How most insurance companies use a computer software program on your injury case to determine your "injury case value;"
4. Important information (inside information) on your injuries and what you need to know about them; ​
5. How your health insurance is really a "glorified loan" that needs to be paid back from your injury settlement and what can be done to maximize your injury settlement;
6. Inside information on insurance companies, your injury case and defense tactics usually used by defense attorneys and insurance companies.