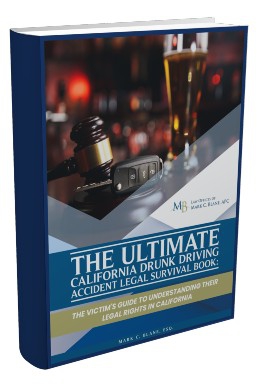 The ULTIMATE California Drunk Driving Accident Legal Survival Book: The Victim's Guide to Understanding Their Legal Rights in California

This book focuses on many different facets when it comes to a drunk driving accident and injury in California, the law, and the legal process an injured victim may face. What follows are examples of what you get in addition to the main points of this book:
• An explanation of what California law is on drunk driving accidents, and the, sometimes, complicated process of help- ing the victim of this type of crime whole again;
• A special chapter focusing on punitive damages against an at-fault drunk California driver who caused bodily injuries from a car accident;
• A how-to-guide for choosing the right California drunk driving accident attorney and the appropriate time to seek out said attorney;
• A special chapter devoted to kids and drunk driving injury settlements and how the California courts supervise and approve children injury settlements;
• A chapter on the Biggest Mistakes that can ruin your California drunk driving accident and injury legal case;
• Frequently Asked Questions (FAQs) to California drunk driving accidents;
• A Glossary of key terms you need to know;
Thus, this book is well suited to those who have a potential civil case for bodily injuries against a negligent party who was arrested for intoxication at the time of the accident, or those who already have a lawyer and have more questions, or those who just do not know where to start. It could also be a useful tool for those who still have not retained legal counsel, suspect they may have a legal case, or need specific legal information first.
I want to give precise and useful information that will get you to the heart of the information quickly. I also understand that most people who get this book need this important information as soon as possible. Some of you will be parents or close family members of adults or children injured by a drunk driver, and some of you will be individuals looking to inform yourselves of important information that is not readily available to you or even known by the general public. You will find the information you need quickly, and it will be to the point. I suggest that you order additional copies of this book for your friends and family members, so they are able to take advantage of the valu- able legal information and insight presented. Also, feel free to help yourself to other free books that are available to download on my website, and explore the many different legal videos I have produced that are about drunk driving or car accident and injury cases, including other injury cases and the legal process along with standards of care in California.
In fact, some of the material covered in this book can be found in specific legal videos on this website where I give more detailed explanations. Please take advantage of my video center to augment any of the material you read about in this book.