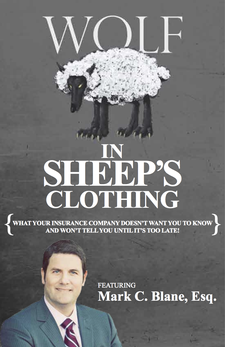 This book, on the day of its official release, hit the
"Best Sellers List"
in two categories on Amazon reaching
#1
in the
Insurance category
and
#42
in the
Personal Finance category
. I was honored when asked to team up and co-author this powerful book with fourteen other highly respected personal injury attorneys from across the United States. This included attorneys from the "golden state" California all the way to the East Coast! We came together for one common goal:
to help the everyday consumer
. We ultimately decided to create one book that contains some of the insurance companies
biggest secrets
when it comes to your injury case, and what the insurance companies rather have you not know. You see, knowledge is potential power, and the more you know the more armed you are against slight-at-hand tactics. You begin to scrutinize more, think for yourself, and thereby become a more confident consumer. The insurance companies, or wolves, do not want you to think for yourself; they would rather have you believe you have nothing to worry about; they want you to scrutinize nothing and believe everything they tell you. Their goal is to have you give your mind away so they reap the profits!
Attorney Mark C. Blane receives the Golden Quill Award from the National Academy of Best Selling Authors for his Best-Seller "A Wolf in Sheep's Clothing" at the beautiful Roosevelt Hotel in Hollywood California, on October 21, 2011.
This book contains 203 pages jam-packed with incredible information with fifteen chapters! Each attorney wrote one chapter for a total of fifteen different lawyer perspectives on what the insurance companies do not want you to know until it is too late! My chapter is chapter 11 which begins on page 137, and it is entitled
How to Maximize Case Value when Insurance Companies use Computer Software to Review Your Injury Claim.
Here are Some of the Subjects Covered in this Book:
Remember, this book is a collaboration of the thoughts and legal work experience of fifteen lawyers; they are some of America's most respected and most sought out lawyers in their respective communities today. The subjects of this book are varied, detailed and cover the following important and powerful points (taken from the
Foreward
section):
1. Attorney
Ben Glass
of Fairfax, Virginia, heads the book with his personable
Foreward
section, and he writes Chapter 1 where he talks about how a wolf (insurance companies) is "sly," and the
Seven "Weasel Clauses"
you never want to see in your insurance disability policy! In fact, Ben Glass suggests you sit down
with
your employer on this chapter that goes into detail on disability insurance. That is right, with your employer!
2. Let Attorneys Charles Bledsoe of South Western Virginia, and Northeastern Tenessee, and
Daryl Dixon
of Paducah, Kentucky, and
Karl Truman o
f Louisville, Kentucky walk you through the biggest mistakes that almost everyone makes in purchasing automobile insurance.
3. Pull out your life insurance policy as you sit down to read Irvine, California Attorn
ey Patrick Phancao's chapt
er, and Attorney Michael Stro
ng
of Virginia, Maryland and the District of Columbia explains why, if you are injured in an auto accident, your own health insurance company may try to grab your entire settlement for itself!
4. Should you ever find yourself in an insurance claim, you will want to read the chapters by Attorneys
Richard Hastings
, of Ridgefield, Connecticut, and me
(Mark Blane)
, from San Diego, California. We talk about how your claim is reviewed by a computer system programmed to scrutinize your injuries instead of a human being!
Brave New World,
here we are!
5. Attorneys
Tony Castelli
from Cincinnati, Ohio, and
Thomas Kiley, Jr.
from Boston and Andover, Massachusetts, thoroughly explain the psychological tactics insurance claims adjusters use to convince you to settle for less, and Attorney
Gary Hazelton
of Bemidji, Minnesota, explains why that so-called "independent medical exam" may have nothing about getting justice on your insurance claim.
6. Attorney
Jason Schultz
of Atlanta, Georgia, shows how the entire insurance claims process has changed (for the worse) of the years, and Attorney
Tim Miley
of Bridgeport, West Virginia, helps you rebut the most common arguments an insurance company will make to diminish the value of your claims.
7. Attorney
John Bisnar
, from Newport Beach, California, shows you how you can settle your own case while avoiding some of the most common mistakes claimants sometimes make. Last, but certainly not least, Attorney
Brent Adams
of North Carolina outlines the true measure of an insurance company's duty and how, in some states, insurance bad faith laws keep them honest and at bay!
Normally this book sells for $19.95 at
Amazon.com
, but, if you are a California resident, and you have been injured in an accident, or you were visiting California and got injured, you can get the book for
FREE
...see order details below: