PURCHASE ONLY: Justice For The Injured Child (A California Parent's Legal Survival Guide)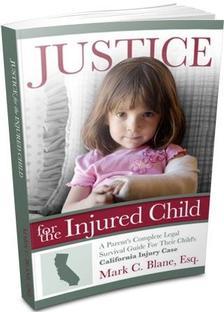 This book is my most ambitious as it took over half a year to research and write. I examined over 50 California court cases, statutes and codes on child injuries and combined it with my personal experience as an injury attorney in California since 1999; I put it all together into concise segments that are easy to read. This book covers California child injuries and how the California courts administer and handle bodily injury settlements for such injuries; I also put tips of what you need to be aware of by going through this process.
The book contains 175 pages and has 11 chapters. However, unlike my free consumer guides, this book is available for sale due to some restrictions with my publisher; you can purchase it, through my on-line store, at lulu.com as either a hard bound edition, soft bound, or ebook download. HOWEVER, if you are someone that has an injured child in California that needs the information presented in this detailed book right away, you could send me a brief email HERE explaining your situation and I can see if I can get an eBook version of the hard bound book emailed over to you!