FREE: Action Guidebook | Follow Mark on Maximizing Your Settlement!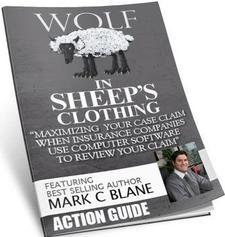 FREE ACTION GUIDE
DOWNLOAD FOR YOUR CALIFORNIA PERSONAL INJURY CASE - SO YOU CAN
MAXIMIZE
YOUR SETTLEMENT VALUE!!!
Welcome to the

FREE Action Guide

download page! This Action Guide

download

is specifically designed for those of you that have a California accident, and bodily injury claim, and you are either:

1.

Not sure

if you need a lawyer, but need some insider knowledge about what the insurance company will be up to when it comes time to review your injury claim;

2.

Looking

for, or researching injury lawyers, and you are not sure what type of questions to ask your injury lawyer in the initial interview process;

3. With an injury lawyer now, but for whatever reason, you

still have lingering questions

about how your case will be evaluated by the insurance company (this does not mean your injury lawyer necessarily did a terrible job explaining some details!)

4. In a situation where you just

fired your injury lawyer

because of dissatisfaction on either how he or she handled your injury case in general, or you were unhappy about the settlement offer that was given to you and recommended by your injury lawyer....

If any of the above fits you, then please read on.....

WHAT YOU WILL LEARN WITH THIS

FREE

ACTION GUIDE DOWNLOAD:

I guarantee you will learn information about your injury case you never knew before. I give away information that is not widely known by the general public nor widely reported in the media. I talk about how computer programs are secretly being used on your injury case to come up with a settlement value, how I discovered them, and how I battle them. Yes, it is not all "doom and gloom."

You will also learn what questions to ask your lawyer, or what questions to ask a lawyer if you are looking for one - in regards to how they are equipped to handle the computer review process of your injury claim. I talk about how I work up the front end of an injury case very well, not only for the computer program review, but also how that lays a fantastic ground work on the back end of an injury case if the case has to be litigated and brought to a jury trial. You see, when you work up the front end of an injury case properly and effectively, it provides a wonderful outline for the back end (litigation/jury trial) of an injury case, if that is ever needed!

HERE IS HOW THIS

FREE

ACTION GUIDE DOWNLOAD PAGE WORKS:

1. Simply fill out the order form box below the four videos or on the top right side of this web page to download the

FREE ACTION GUIDE

;

2. Print up your

FREE ACTION GUIDE

, and then staple it together;

3. Then watch the four videos below in succession from Video 1-4. Each Video last about 11-14 minutes and they are designed to walk you through your

FREE ACTION GUIDE

. You are able to take notes after each question or "segment" because I designed the

FREE ACTION GUIDE

to follow the Videos in order (Video 1-4) - also, most of the information comes from my recent Best-Selling book, A Wolf in Sheeps' Clothing (What your insurance company doesn't want you to know, and won't tell you, until it is too late!). You will not be disappointed!


You have nothing to lose! The information presented here is to simply help you answer any questions you have on your injury claim (how your claim will be evaluated for value, what questions to ask, and what to know), so let's get started together RIGHT NOW!

VIDEO 1


VIDEO 2


VIDEO 3


VIDEO 4